Stronger Together: Celebrating a 2-year IJM and U.S. State Department Collaboration in Creating a Network of Care for Survivors
Celebrating partners, survivor leaders, and the big wins in supporting child survivors of online sexual exploitation around the Philippines
Last April 26, 2023, IJM and partners celebrated the conclusion of A Strong Network of Care, a two-year project led by IJM's Aftercare, the branch of our work that supports the restoration of child survivors of online sexual exploitation.
The hybrid gathering, streaming from New Coast Hotel Manila, welcomed over 120 in-person attendees, including guests from around Luzon, Visayas, and Mindanao, and over 150 online participants to celebrate and appreciate the hard work and perseverance that went into building this network of care for survivors.
A Strong Network of Care, a project funded by the U.S. Department of State Office to Monitor and Combat Trafficking in Persons (J/TIP), ran from May 2021 to April 2023. The project was launched to address specific gaps in aftercare. Pre-project research confirmed that services such as mental health services and foster care services were severely lacking as the number of survivors increased.
We are awed by the extent of the growth of this strong network these past 2 years, and the passion of partners, foster parents, social workers, and government leaders in bringing resources, funds, time, and energy to transform aftercare in the Philippines.
Watch the project highlights, a video that was shown at the celebration: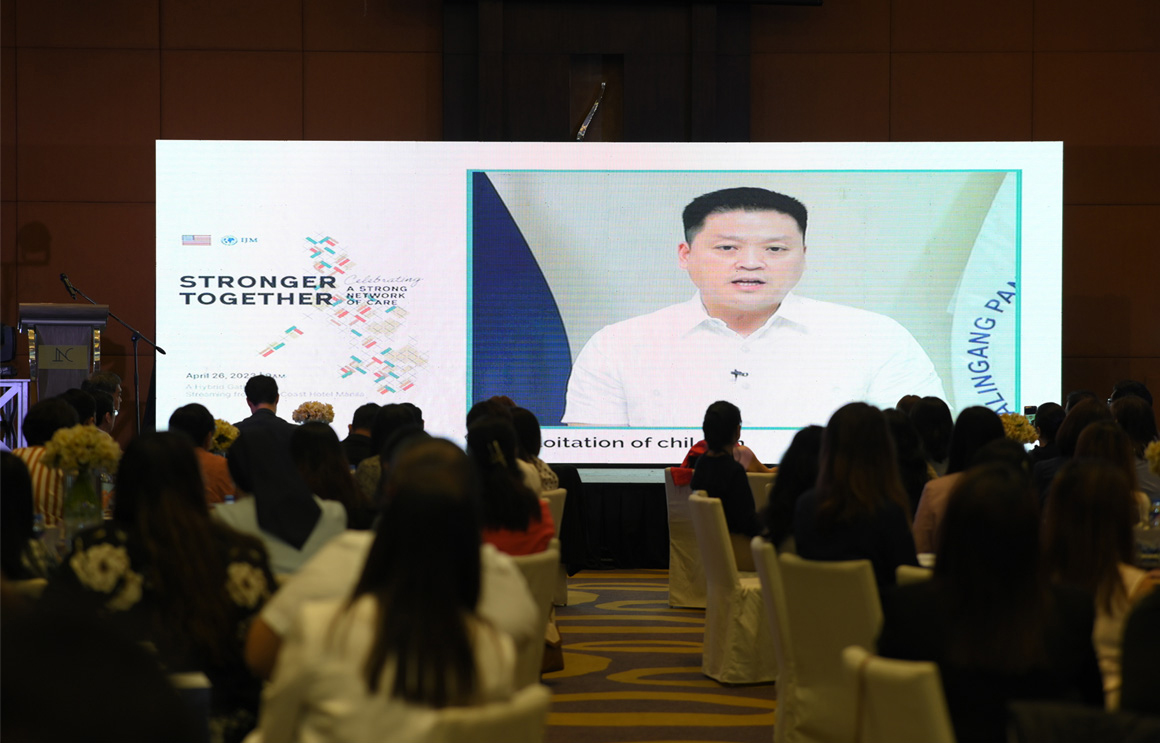 Keynote Speaker Secretary Rex Gatchalian, Department of Social Welfare and Development (DSWD)


An atmosphere of celebration and appreciation
Celebrating Firsts
With the Strong Network of Care, survivors in marginalized sectors received mental health services for the first time.

This project is the first comprehensive approach to close the gaps in aftercare in the Philippines. Creating scalable approaches and models, the project developed networks of care in five regions and conducted strategic planning for four regions. One hundred sixty-seven members of the network of care were trained in providing trauma-informed services. Thirty practitioners were trained in Trauma-Informed Psychosocial Processing. And reintegration plans were developed for 33 survivors.
Celebrating Transformation
We celebrate survivors' changed lives through rescue and restoration, as heard from stories and case studies narrated by partners from the City Social Welfare and Development Office.

Ten local government units passed and implemented local ordinances against OSEC. We are entering a new era in aftercare in which the government is supporting the needs of survivors more than ever before.
Celebrating Leadership
The Department of Social Welfare and Development (DSWD) was a strong and constant presence throughout this project. Sec. Alex Gatchalian represented the DSWD central office at the celebration. "The fight against OSAEC (online sexual abuse and exploitation of children) is not a fight of any single organization. We must take a proactive stance and protect our children's welfare vigorously. The DSWD and all partner agencies cannot do this alone. All the help from all sectors of our society is vital. Through collective, multi-sectoral, and multi-level action, we will create a sense of hope for this generation whose salvation lies in our actions. Let us not fail our children who are counting their faith in each one of us," said DSWD Secretary Rexlon Gatchalian.

Representing Iligan City was Hon Frederick Siao, who happily shared that their Child City Code was approved just the day before the celebration. In his speech, Mayor Siao thanked IJM for alerting their office on the state of online sexual exploitation of children in the city. Iligan City passed their local ordinance known as the "Iligan City Ordinance on the Protection of Children from Online Sexual Exploitation and Abuse" on February 21, 2023, which was signed last March 9, 2023. Iligan is among the cities who formed a Network of Care composed of government, non-government, private organizations, faith-based organizations, academe, and individual service providers with the capacity to provide programs and services to OSEC survivors and their families. Mayor Siao expressed his satisfaction in being able to co-fight crimes with IJM.
Celebrating Foster Care
The Strong Network of Care project established the Mindanao Foster Care Working Group, trained 20 individuals in foster and kinship care, and trained 34 social workers trained in managing foster and kinship care. In our partners' experience, foster care training doubles the likelihood of the success of a foster parent.

Foster care is among the biggest areas of need. In a video by the Parenting Foundation of the Philippines, Foster parents shared their struggles and victories and expressed how crucial foster care training is. "Being a foster parent of an osec survivor can be scary," a foster parent confessed in her native dialect. "It's not easy to be a foster parent especially to children who experienced trauma." She shared that she "experienced abuse and neglect and so wanted to be a foster parent." Through the Strong Network of Care's training programs, she learned how to effectively talk to the children and help them "voice out and express their wishes, thoughts, and problems."
Celebrating Survivor Leadership
When survivor Marj (not her real name) took the stage with a gripping testimony, the room was silent and awed by her courage and moved by her story. Marj shared that she thought she would be abused for the rest of her life, and did not have hope until she understood why abuse happens. "I became a survivor leader when I had the courage to share my story," Marj shared."I chose to have the courage to be a good example for other people...I am happy to be here in front of you." Marj affirmed her commitment to her role as a survivor leader, "I will not stop fighting so that no youth should experience this crime again." Marj shared how he has been able to participate in round table discussions and contribute to IJM publications. She also had the opportunity to speak before the UN, in IJM events and training. She gained confidence in herself, and gained a deeper understanding of what IJM and partners do. Marj is a picture of a journey from pain and trauma, to hope, courage, leadership. Now a member of the Philippine Survivor network.

Charito (not her real name), chairperson of the Philippine Survivor Network said: "I am grateful for the project because it has given us, survivors, a community to support one another in our healing journey and our advocacy. Through the project, we have received training and skills that have empowered us to become advocates and leaders in our own right. Survivor-advocates will continue to work together towards a world where no child is ever subjected to the horrors of sexual exploitation."

The Philippine Survivor Network was launched on February 8, 2023. The group conducted its first General Assembly in March 2023.

39 survivors leveled up in storytelling through the training, "Advocacy and the Power of Story"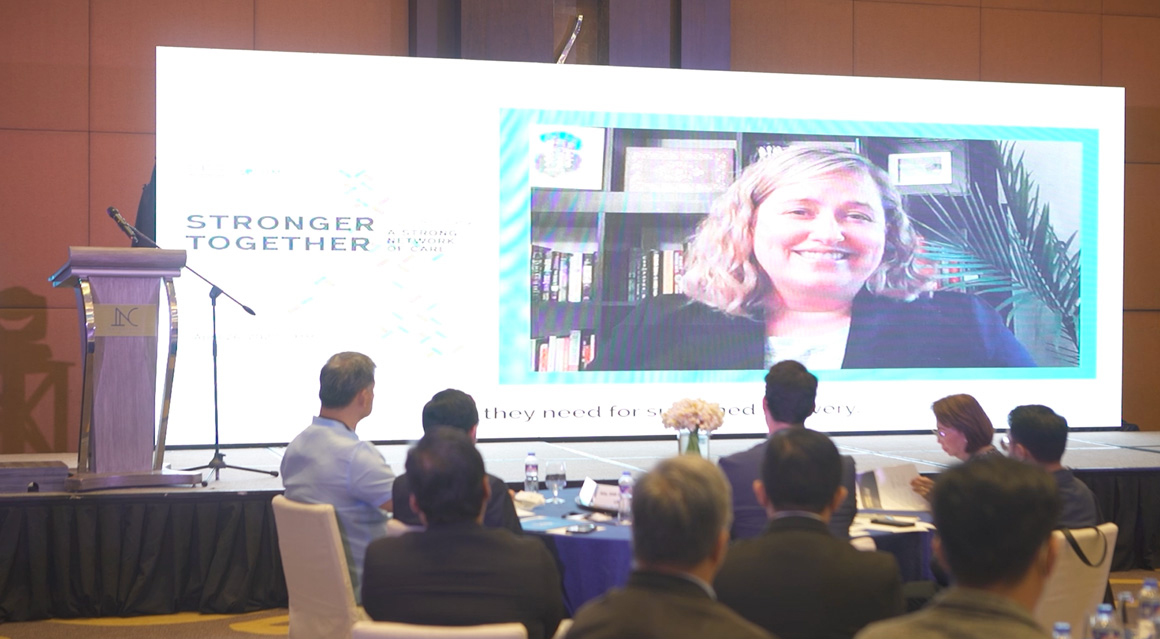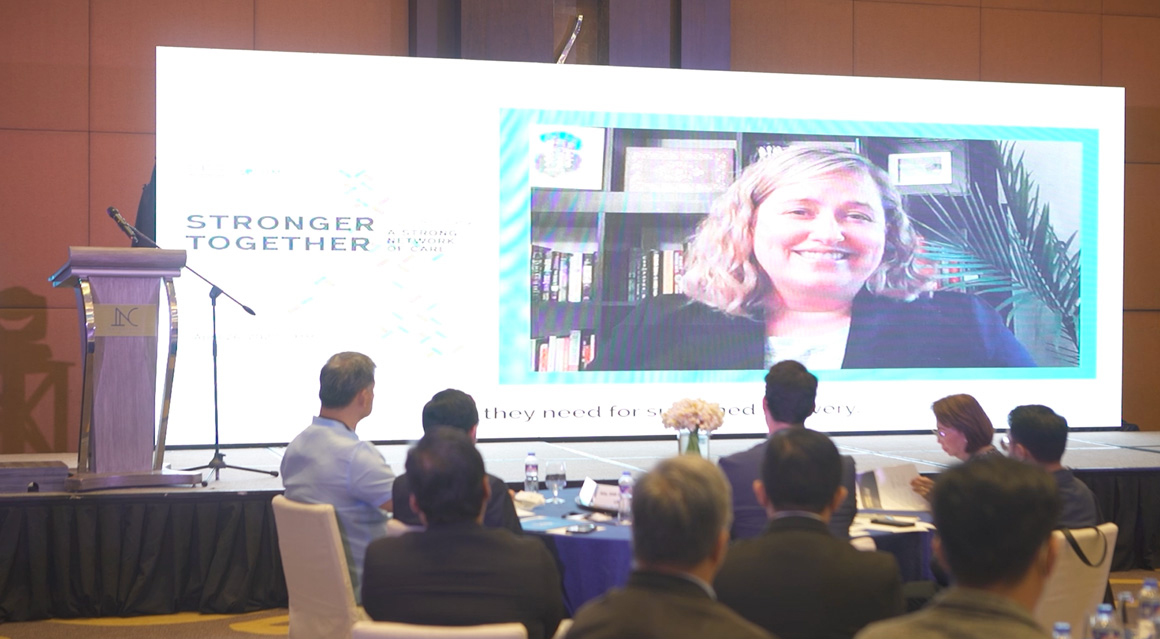 A message from Jamie Sutter, Grants Officer, U.S. Department of State Office to Monitor and Combat Trafficking in Persons (J/TIP)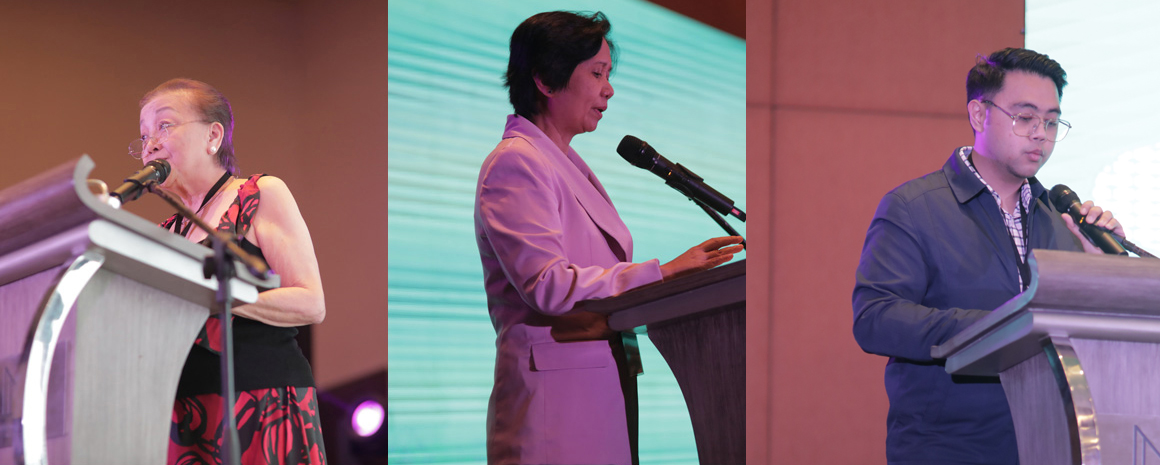 L-R Ma. Paz De Guzman, Parenting Foundation of the Philippines; Dolores Rubia, IJM; Atty. Vincent J. Ong, Inter-Agency Council Against Trafficking (DOJ-IACAT)
The Work in Child Protection and Survivor Restoration Continues
We are grateful to the U.S. Department of State Office to Monitor and Combat Trafficking in Persons (J/TIP) for their generosity and presence. Grants officer Jamie Sutter delivered a recorded welcome message to the attendees:
"You have demonstrated that the work of combating online sexual exploitation of children is not solely a two-year endeavor, but a long-term commitment that we must all remain committed to.
It is not an easy task, especially because the project began in the middle of the global COVID pandemic, and I commend your dedication and resilience against such challenging and unprecedented factors to ensure the project stayed on track."
Atty. Samson Inocencio Jr., Vice President and National Director of IJM's Program against Online Sexual Exploitation of Children, said:
"The success of the A Strong Network of Care project is a huge milestone in IJM's efforts to combat online sexual exploitation of children in the Philippines. The project has enhanced the capacity of the country's network of social services to provide a comprehensive and trauma-informed response that meets the individual needs of OSEC survivors. We are grateful to the U.S. State Department Office to Monitor and Combat Trafficking in Persons for investing in survivor care. IJM remains committed to protecting children from this heinous crime and ensuring that survivors receive the support they need to live a life free from exploitation."
We are grateful to our key partners and supporters in this project:
Department of Social Welfare and Development
Inter-Agency Council Against Trafficking
Council for the Welfare of Children
Child Protection Network
Parenting Foundation of the Philippines
Local governments of cities and provinces in National Capital Region, Regions III and IV-A in Luzon, Regions VII and VIII in the Visayas, and Regions X and XIII in Mindanao.
Together let's continue the work of child protection and survivor restoration. We are stronger together and we look forward to our continuing partnership!