A pioneering methodology to estimate the prevalence of trafficking of children to produce new child sexual exploitation material (CSEM) in livestreamed videos, images, and recorded videos was developed in a two-year project led by IJM's Center to End Online Sexual Exploitation of Children.
The Philippines: A Global Online Sexual Exploitation of Children (OSEC) Hotspot in Less than a Decade
According to a previous study published in 2020, the Philippine government had less than 10 case referrals for online sexual exploitation of children (OSEC) per year from 2010 until 2014, after which case numbers began to rise.  
The same report showed that half a decade later, case data from international law enforcement "seemed to verify what OSEC investigators have long acknowledged— that the Philippines is an OSEC hotspot." 
But how many victims were there and how many traffickers were out there? This is a question that casework data alone could not answer. 
Measuring the Prevalence of Trafficking to Produce Child Sexual Exploitation Material (CSEM)
In 2021, IJM partnered with the University of Nottingham Rights Lab in a study called Scale of Harm to develop a methodology to estimate the prevalence of the crime across the Philippines. 
By the end of 2022, a national survey was conducted using the Scale of Harm methodology, leading to the first-ever prevalence estimate of trafficking to produce child sexual exploitation material.  
The study revealed that nearly half a million children were trafficked to produce new child sexual exploitation materials in 2022. That's approximately 1 in every 100 Filipino children.  
Additionally, nearly a quarter of a million Filipino adults trafficked children for the purpose of creating these materials. Roughly 3 in every 1,000 adults participated in this crime. 
When I first heard this, I had an emotional response and have had many since then.  We are heartbroken when we think of the real children that are represented in this number. We lament this abuse. We pray and continue to work for its end.
John Tanagho, Director of IJM's Center to End Online Sexual Exploitation of Children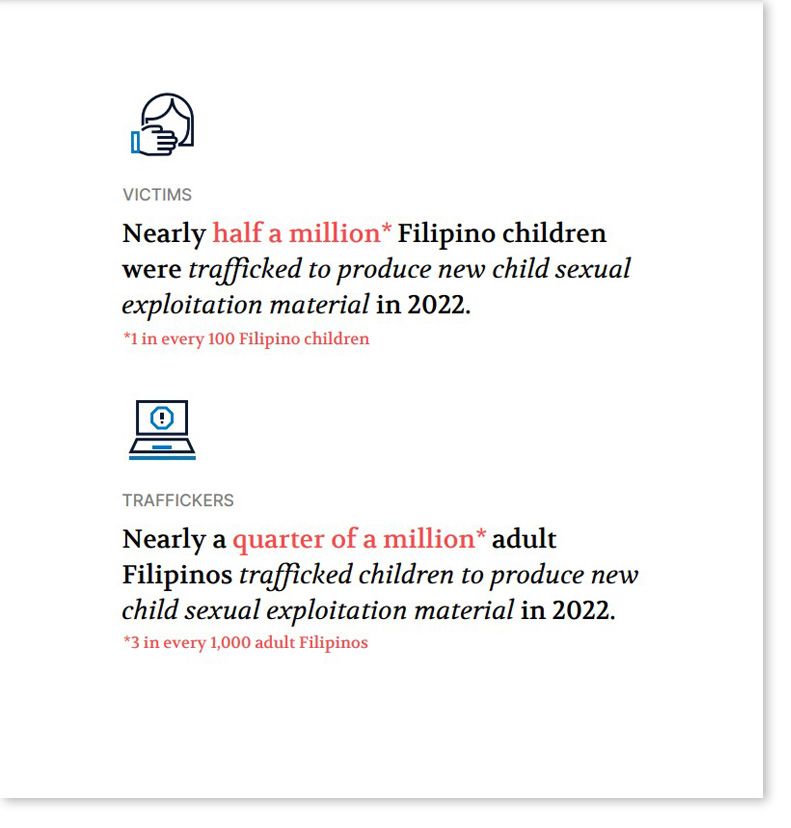 The key findings of the Scale of Harm study. Download the summary report here.
IJM casework data supports these numbers, calculating that for every trafficker, there are 3.5 child victims. Traffickers are often relatives of the children—parents, family members, or close friends. 
It's absolutely heartbreaking especially knowing that this big number represents precious lives that are being abused every day. To think that nearly half a million children were victimized in 2022 alone is staggering.
Reynaldo Bicol, Director of IJM Manila
The study also relied on survivor experience to understand this crime. In focus group discussions, survivors shared their expertise and provided essential context behind these results. Survivors believe that financial gain drives these traffickers, not poverty, and a lack of community understanding about the crime results in underreporting.  
The study proves how widespread this form of online child sexual exploitation spreads across the country, receiving over 3,600 survey responses from municipalities across Luzon, Visayas, and Mindanao.  
Though the results are expansive, financial data and IJM casework suggest that this crime is still significantly underreported and the numbers may be even greater. 
The study only takes into account the supply-side traffickers and not the demand-side perpetrators—the customers paying the traffickers for the livestreamed abuse.
Thus, researchers acknowledge that the study results do not fully portray the scale of the issue and the scale of harm.
The data gathered is staggering, and we are still faced with the reality that the estimate of almost half a million child victims is possibly only a fraction of the full scale of harm.
Moving Forward: An Urgent Response  
Such a widespread problem demands a multi-faceted approach—the study recommends key actions the public, private, and local sectors must take to combat this crime.  
Community activation is essential to end trafficking of children for CSEM production. Community leaders must take an active stance against trafficking and condemn the crime while creating space for survivor leaders to educate the public. Government funds should be prioritized to support local programs that deter traffickers.  
In addition to the community efforts, the Philippine government should maintain their momentum in combating this crime. Other community efforts must supplement law enforcement action to not just stop traffickers but deter people from ever engaging in the crime.  
Private sector action is essential to early intervention. Tech companies must implement a safety by design approach, installing technology that removes, blocks, or filters these materials. Banks and payment service providers should support law enforcement as well by monitoring transactions, investigating suspicious activity, and reporting and blocking payments of suspected or known offenders. 
Survivors have revealed the lack of information and research on online sexual exploitation of children and suggested key areas of research to better understand and combat this crime. For example, deeper insight on demand-side perpetrators or the effects of this crime throughout society would help pinpoint areas where further efforts need to be taken.  
Regional Vice President and National Director of IJM's Program Against Online Sexual Exploitation of Children, Atty. Samson Inocencio, said:
Collaborative efforts led by the Philippine government over the years have laid a strong foundation for curbing this technology-enabled crime. Along with other interventions, we need to continue safeguarding more victims and holding more perpetrators accountable. By doing so, we create deterrence and cultivate an environment that provides lasting protection for vulnerable children. The study has outlined clear steps that we can take together moving forward.
Presenting the Prevalence Study Findings to Partners 
The methodology, findings, and recommendations from the Scale of Harm prevalence study were presented to partners in the Philippines last September 7, 2023 at the Sofitel Philippine Plaza Manila, at a gathering co-organized by Kumu and Sofitel. The event was hosted by IJM Ambassador Amanda Griffin Jacob, together with Atty. Ralph Catedral, Specialist for Prosecution - Assessment and Consulting at IJM's Center to End Online Sexual Exploitation of Children. In attendance were over two hundred representatives from key government agencies, civil society, and the private sector, and over a thousand viewers on Kumu's platform, where the event was livestreamed. 
At the presentation, the Scale of Harm study results were handed to the Philippine Department of Justice - Inter-Agency Council Against Trafficking by survivor leader Ruby (a pseudonym) of the Philippine Survivor Network.  
Responding to the Scale of Harm findings, Ruby shared:
As a survivor who knows the pain of online sexual exploitation, the study's findings underscore the urgency for stronger collective action to protect innocent children. Co-designed by survivors, this study is informed by lived experiences. With recommendations involving government, tech and financial companies, civil society organizations, and individuals in our communities, this study marks a crucial step forward.
IJM Cebu Director Lucille Dejito commented on the findings:
We are looking at this with so much hope because we are not starting from square one. The work that has been accomplished so far, and even the trajectory that we are seeing especially in the investment in the capacity of our law enforcement has been felt and seen on the ground.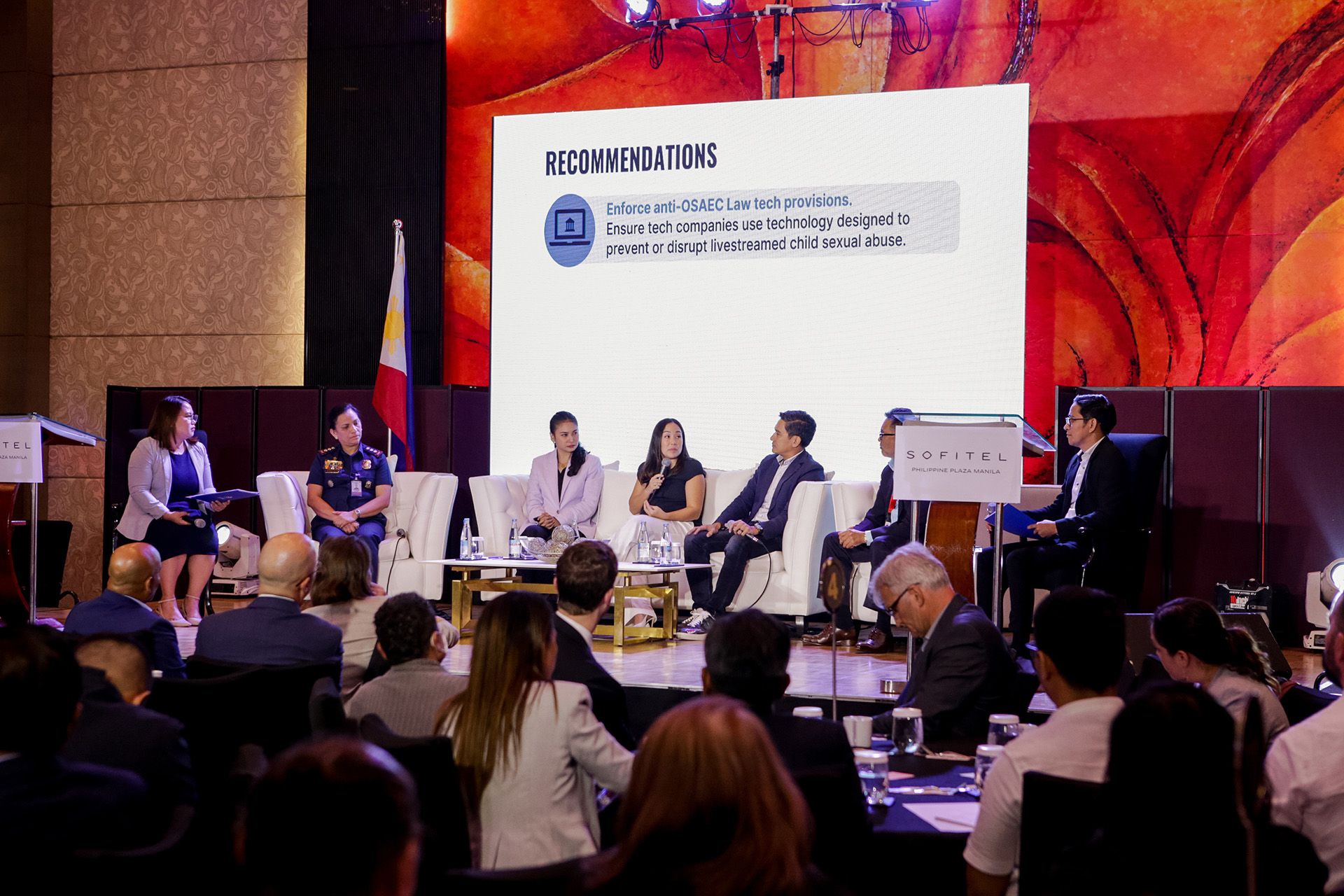 A panel discussion on the Scale of Harm report recommendations. Facilitated by Atty. IJM Cebu Director Atty. Lucille Dejito (leftmost) and IJM Manila Director Atty. Rey Bicol (rightmost). Panelists from left to right: PCOL Portia Manalad, Women and Children Protection Center, Philippine National Police; Atty. Margarita "Kit" Magsaysay, Officer-in-Charge Executive Director, Inter-Agency Council Against Trafficking, Department of Justice of the Philippines; Ms. Arianne Kader-Cu, Chief Operating Officer, Kumu; Mr. Eric Favila, Founder and CEO, AMLakas; and Mr. Angel T. Redoble, Chief Information Security Officer, PLDT/SMART.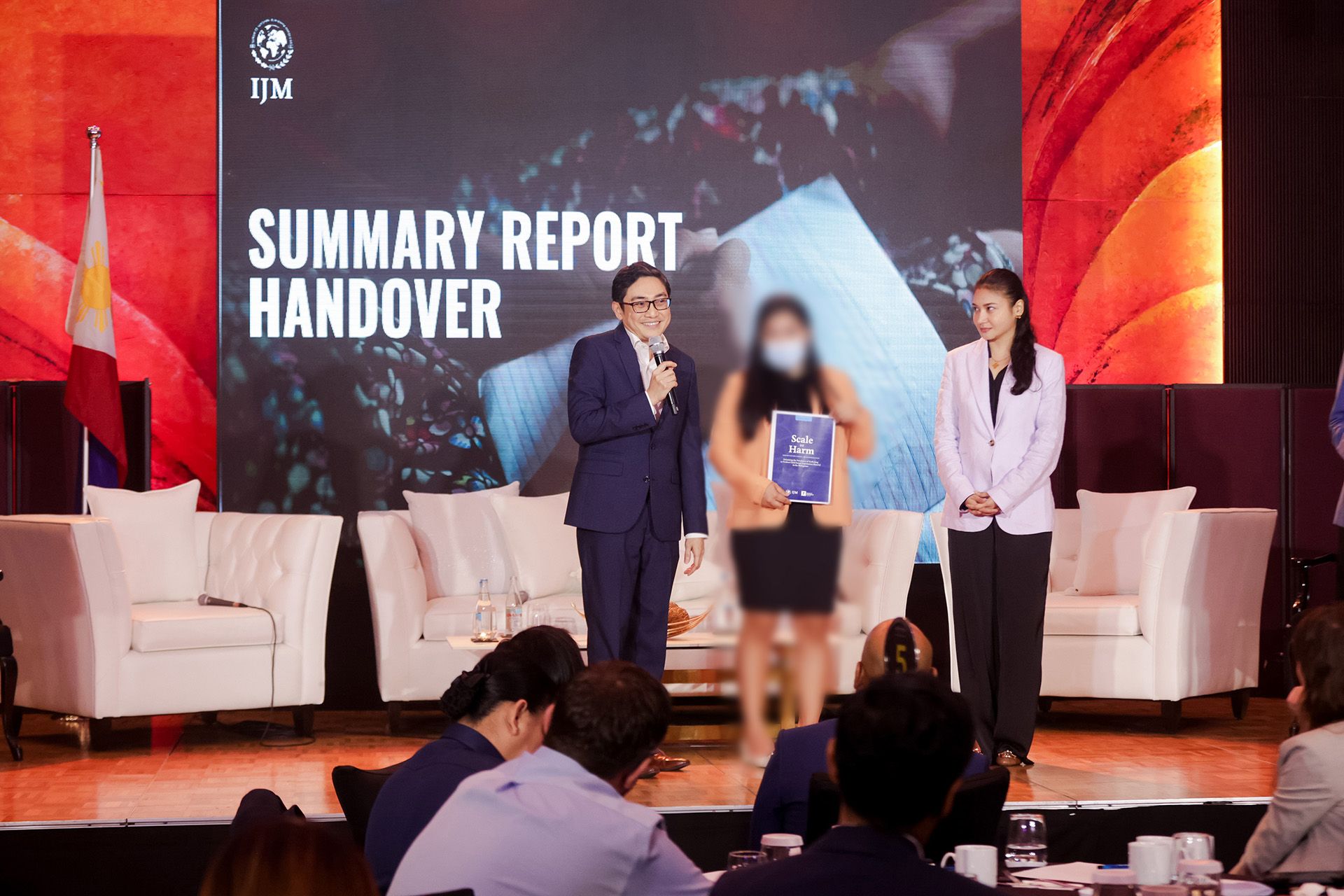 Survivor leader Ruby (not her real name) and Atty. Samson Inocencio (left) of International Justice Mission (IJM) presenting the Scale of Harm summary report to Atty. Margarita Kit Magsaysay (right) of DOJ-IACAT.
Collaborating to Achieve What Seemed Impossible
Looking back at how the Scale of Harm study came to be, we at IJM are immensely grateful to the partners who joined hands with us to pursue what was once just an idea, a dream.
Scale of Harm's External Advisory Council of 24 experts across diverse sectors supported the team to develop this robust, mixed-method research approach. 
The methodology uses the Network Scale-Up Method (NSUM). This method, widely accepted and promoted among organizations like the Global Fund to End Modern Slavery, allows researchers to study behaviors by examining the size of a person's social network and the number of people within the network who exhibit said behavior. With this method, researchers can assess the size of hard-to-reach or hidden populations. 
Survivor engagement played a key role in the study as well, Three survivors, known by their pseudonyms Ruby, Liberty, and Joy, were officially survivor consultants in the project.
In addition, six other survivor leaders from the Philippine Survivor Network participated in focus group discussions, providing crucial insights to the study.
The External Advisory Council hoped to not only assess the prevalence of trafficking for financially motivated livestreamed abuse but to create a replicable method to continue to assess prevalence.
With Scale of Harm data now in the hands of collaborators and child protection advocates, we are hopeful to see the work against this crime expand and accelerate, resulting in more and more children protected.
View images from the Scale of Harm gathering last September 7, 2023: